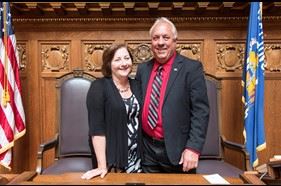 Hello again,
Now that the election is behind us, my office can once again start sending weekly e-updates. I want to thank the voters of the 42nd Assembly District for putting their trust in me again and sending me back to the State Assembly. I am humbled by your support and will do my best representing you in the Assembly.
Between now and the new year, my office will be working on getting ready for the 2021-2022 Legislative Session. My staff will be researching bill ideas and working to ensure that we are ready for a successful session. I also will be doing everything I can to support the Speaker and the Committee on Campaigns & Elections as we work through the recount process and investigating election irregularities. Wisconsinites need to know that the 2020 election was done fairly and that the results are accurate.
Inauguration for the 2021-2022 Legislative Session will take place at the State Capitol on Monday, January 4, 2021 where I will be sworn in for my third term with my colleagues. After that, we will begin working on our priorities for the session. Shortly after, in February, the Governor will release his executive budget and the legislature will then take its turn to make changes.
As always, please reach out to my office any time if you have questions about anything in this e-update, anything going on in state government, or if you are having an issue with a state agency. We are here to serve YOU!
-Jon